Tammy provides plenty of options for Las Vegas women's haircuts. However, simply writing them down and putting them on a list isn't going to cut it. There are simply far too many types of hairstyles making it impossible to list them and provide details on a single web page.
Instead, Tammy focuses on providing a service that meets your personal needs. If you have an idea of the type of hairstyle you're looking for, then simply get in touch for a free consultation and she'll happily discuss your options. Whether it's the latest celebrity haircut that you simply can't get enough of, or a more traditional style that has recently piqued your interest, Tammy will be more than happy to provide you with a professional level of service to help you achieve the look that you've been after. Tammy can also help you know which of her preferred professional products are best for your hair, if requested.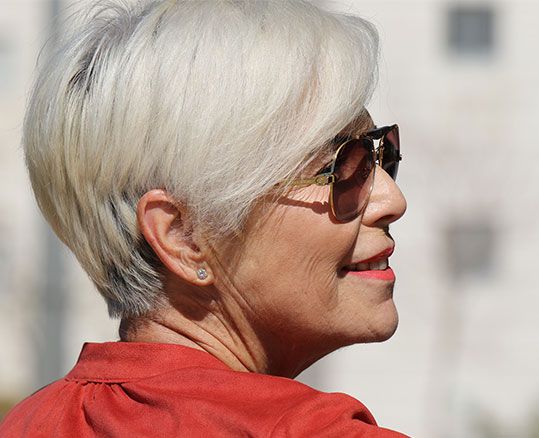 A Simple Trim to Manage Your Hair
Feel that your hair is getting too long or that it needs to be tamed a little? Don't hesitate to inquire about a precision trim that will leave your hair feeling fresh and new. Just let Tammy know how much you want to take off and she'll do the cutting. she'll make sure to remove every split end so that your hair feels nice and soft, and she'll also offer wash and combing services if you need to get back out into the world with your brand-new look right away. Ready to set an appointment with Tammy? If so, please click on the button below to view her appointment booking page
Book An Appointment!
An Exciting New Style to Wow Your Peers
The hairstyle you wear can completely change your attitude and the way people perceive you. If you're interested in a new short style or want to completely overhaul your long hair, then we're more than happy to provide a Las Vegas woman's haircut that will transform your appearance and create a whole new you. Simply provide Tammy with an idea of what you'd like to accomplish or let her offer you some suggestions to get the ideas rolling. No matter how spontaneous your decision is, Tammy is ready to help you take on a completely new facade.
A Traditional Style to Catch New Eyes
Traditional hairstyles are also a specialty of Tammy's. Having been in the business for several decades, she understands just how important it is to refresh your style with a haircut, wash and a blow-dry. We'll leave you with a healthy, clean and shining hair that is full of volume and luxuriously soft. She'll even teach you how to take care of your new style at home so that you can leave the house every day feeling invigorated. Again, just let her know what style you'd like, and she'll take it from there. Her Summerlin haircuts will have your hair looking perfect!
Not Sure What You Want?
Tammy Lord's Salon is a specialist hair salon in Las Vegas with years of experience, so if you're unsure what you're looking for you shouldn't be afraid to get in touch for a free consultation. Tammy will help you pick the right style for your needs, so you can be proud and confident in your own hair.